I've just spent an inordinate amount of time creating an archive of all my past online writing work, in particular of the tech blog I founded ReadWriteWeb. I thought I'd outline my reasons for doing this, and why I ended up relying heavily on the Internet Archive instead of the original website sources.
With ReadWriteWeb (RWW), I had a career archive spanning approximately 3,000 posts over 9.5 years. I ran the site from April 2003 to October 2012. During that time I wrote an average of 315 posts per year (6 per week). Given that many of those posts were of medium-to-long length, and I was doing a lot of business and editorial work too, that's a pretty good haul.
You may be wondering why I felt the need to create an archive of all my RWW posts, given that many of those posts still live on the current iteration of ReadWrite.com.
The main reason is that the current ReadWrite design has moved too far away from my original RWW brand. That's created a feeling, at least for me, that the old content looks out of place on the current site. The latest ReadWrite designs also introduced a bunch of technical glitches to the older content. For these reasons, I chose to link to the Internet Archive copies of my posts. Also, I simply wanted to remember all those classic RWW designs from 2003-2012.
So how did the current design get so far removed from the 2003-12 designs? Good question and probably no longer my business, since I sold the site over five years ago. But when I left RWW in October 2012, then owner SAY Media changed the domain name to ReadWrite.com and overhauled the design. I remember that was a big change, because the underlying publishing platform also changed. I'm not sure if it was that design which messed up the formatting, images and more in all my old posts. If not, then it was one of the several re-designs that were done after I left. ReadWrite.com is now owned by a company that (confusingly) now calls itself ReadWrite as well, but it used to be called Wearable World. In any case, the current design makes a dog's breakfast of all the old, pre-2013 content.
Here's an example of a post from 2011 and how it looks on ReadWrite now:
You'll notice the lead image has disappeared. In its place is social media icon cruft, which dominates the upper part of the page. Also I'm not too happy to be a faceless avatar and listed as a "Contributing Writer," when I was the founder of the site. It gets worse further down the page…
The remaining images in the post are now inexplicably tiny and blurry. That's because they're not linked to the original source images anymore. Instead there's some weird CDN (Content Delivery Network) hot-linking funk going on here, whereby the original image on the RWW server has been swapped out with some rubbish CDN versions. To top it all off, the comments under the post have been obliterated (not just on this post, but most of the old posts from what I can see).
It isn't just these glitches that make the old posts a mess. The current, rather bland, design just doesn't suit the content that was written prior to 2013 (well, IMHO anyway). It's not just my content affected, but posts from RWW Hall of Famers like Josh Catone, Marshall Kirkpatrick, Alex Iskold, Emre Sokullu, Sarah Perez, Audrey Watters, Jolie O'Dell, Dan Rowinski, Taylor Hatmaker, Jon Mitchell and many others.
One final gripe: not all of the old content still exists on ReadWrite.com. Some posts have been deleted entirely, seemingly at random. That was another reason I used the Internet Archive as my go-to source, for both the list of all my posts and the links.
Here then is the above post in the best approximation of its original design: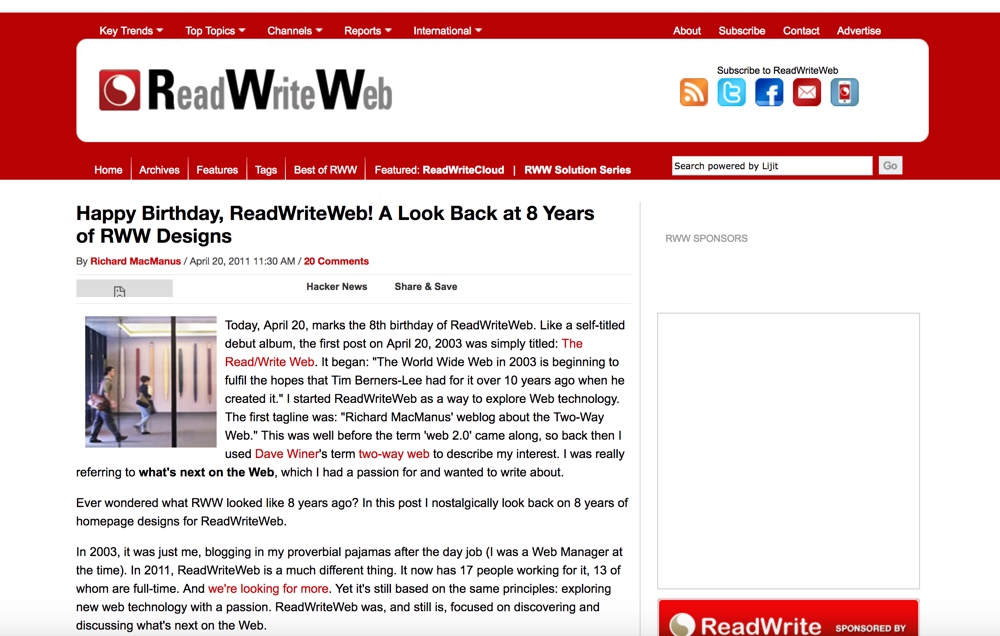 Now admittedly there are broken images on this page too, because the Internet Archive doesn't save all images. But even despite that, what's archived in the Wayback Machine is a damn sight better on the eyes than the current abomination. It also just feels more RWW.
The point is: I like to remember the content how it originally was, so the Internet Archive was an obvious choice for linking all my old RWW content. (Incidentally, archive.is also has a good copy of RWW in 2012; but alas there's nothing prior to that.)
Here then is a link to my archives. These include not only the ten years of my RWW posts, but all the posts I wrote for ZDNet (2005-06), IONRSS (2005), eBook Culture (2004), some guest posts I've done on other sites, and even a couple of screen captures of a RWW precursor called Modern Web (2002). I'm adding posts from my current group blog, AltPlatform, as I go. Any columns I write are being actively archived too. For each of the old archives, but particularly the RWW pages, I've included some screenshots from the Internet Archive to give a flavour of the design at the time those pages were published.
Btw when I say 'archive' in this context, I mean linking to copies of the content on the Web. But I also saved copies of the original files to my cloud too, using a Firefox extension called DownThemAll!. Just in case. Heaven help us if the Internet Archive falters in future, because it really is an amazing resource.
I was partly inspired to do this archiving project after seeing Jon Udell's archives. In a 2014 blog post he wrote:
"In some cases I've moved archives to my own personal web space. But I prefer to keep them alive in their original contexts, if possible."
My approach differed only in that I preferred to link to the Wayback Machine, to approximate their original design as closely as possible. Because of that I didn't need to save any content to my personal web space, since Internet Archive has almost all my old posts (the exception being some ZDNet posts, but unlike ReadWrite that company still has a decent live copy of them).
I'm pleased I've gone through all this effort to archive my back catalogue of online writing. I'm proud of what I've written, even if the odd post from back then makes me cringe now. But that's life isn't it. Most of that old content still holds up, and certainly packs a lot of memories.